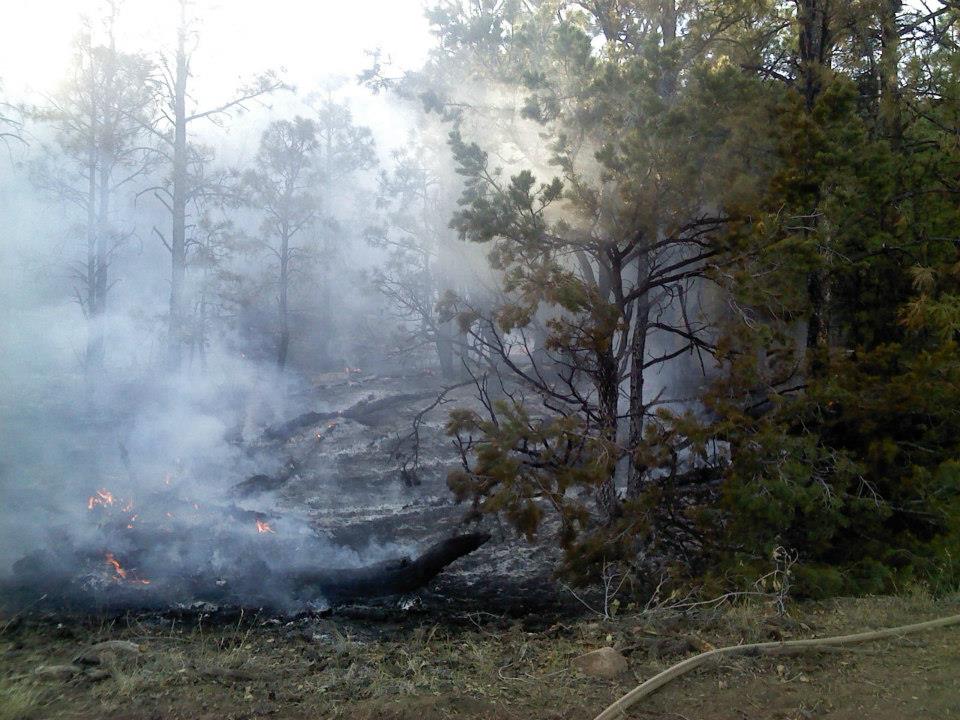 CABO LUCERO FIRE DEPARTMENT
FIRE WISE COMMUNITY
PROGRAM INFORMATION
This area is bordered by forest, heavy brush, and grassland. As the community expands, individual houses are built next to or in these fuels, creating areas termed urban interface. The urban interface presents a special challenge to firefighters as any house fire could result in a wildland fire and any wildland fire could involve homes.
You have a choice, it's up to you!!!
The key to home defense in the case of a wildland fire is defensible space. Pine trees overhanging the roof and scrub oak under the deck will carry fire from the forest to your house. This does not mean that all greenery must go. Simply clear brush and trees away from the immediate area of your home before a fire occurs. Additionally, make sure your gutters are clear of dry pine needles and any dead and down branches that might carry fire are disposed of.
Preparing in advance will give your home a chance.
Are you Ready?
The most unpredictable and dangerous fire you're likely to encounter is a wind-driven wildfire. As winds change intensity and direction, a wildfire can either lay down and smolder, or it can turn into a roaring freight train. Knowing how to protect your home, your family, and when to leave in the event of a wildfire will be essential if you are to remain safe when disaster strikes.
To help the community better understand the issues related to preparing for a wind-driven wildfire in our community. The Cabo Lucero Fire Department, The San Geronimo Cabo Lucero Fire Department, San Miguel County Fire Authority, Ready, Set, Go, NM!
Get Ready:
The first step is to prepare your property, home, and family to be prepared in the event of a wildfire.
CABO LUCERO FIRE DEPARTMENT
READY! SET! GO!
Ready! Set! Go!
Using these three words you can prepare your own Wildfire Action Plan and be prepared should a wildfire threaten your home.
You can help protect your property by creating defensible space around your home. That means removing brush for a minimum of 100 feet. Be sure there are no tree limbs hanging over your house and the roof and gutters are free of leaves, pine needles and other debris. Make sure ornamental shrubbery is set back from the sides of your home and that leaves under them are cleared away. One of the most common dangers in a wildfire is free-falling embers landing in these places and igniting your home.
Replace shake-shingle roofs with tile or other fire-resistant materials. Use fire-safe building materials when constructing or remodeling your home and plant fire-resistant landscaping.
Assemble emergency supplies and prepare a list of the things you want to take with you if you need to evacuate. Remember to think about things like cash, medications, phone chargers, computers and food for your pets. Plan your escape routes; you should know at least two different ways out of your neighborhood.
Get Set:
If a wildfire threatens your neighborhood, act immediately. Back your vehicle into the driveway with the hood (front) facing the street. Next, roll up the windows, and load your vehicle with everything you want to take with you. Make certain your valuables are either in your vehicle, or are safety stored in a (fireproof) safe.
Remove flammable materials from around your house. This includes patio furniture, firewood, decorations and anything else that could catch fire. Then monitor the news, your fire department's Web site, and MySafe:LA for information regarding the fire.
Go!
In the past, the Cabo Lucero Volunteer Fire Department and other city agencies suggested residents await evacuation instructions prior to leaving their homes. The latest information suggests that you should not wait to be told to leave. Go early! If you've followed the suggestions noted here in the Cabo Lucero Volunteer Fire Department website, as well as those related publications on the subject, you've already done what you can to protect your home and property. Firefighters need room in which to work. By leaving, you give them the best chance to protect your property.
IF AN EVACUATION ORDER IS ISSUED:
CONTACT Evacuation Center: CALL 505-425-7261 or visit CABO LUCERO FIRE DEPARTMENT HOME WEBSITE
Think Clearly!
Leaving your home when a wildfire is approaching is a difficult and emotional decision. Many people believe that by staying behind, you will have a better chance of saving your home. During the past year, a growing discussion regarding "stay and defend" has been discussed by both city and fire service officials. The recent disasters in Australia, where so many lives were lost, combined with all of the experience gained in past New Mexico wildfires makes it clear that the "stay and defend" concept may sound reasonable on paper, but is extremely dangerous in real-life. People decide to stay before the fire front arrives. When it does, many people change their mind (or panic) and decide to leave - and at that time, it's too late. Many fatalities that have occurred in wildfires around the world are the result of people leaving their homes too late.
It's up to you to be prepared in the event of a wildfire. We urge you to learn, adopt, and practice the Ready, Set, Go initiative.
CABO LUCERO FIRE DEPARTMENT
FIRE EVACUATION PLANNING
INFORMATION
IN THE EVENT OF EVACUATION OR ANY QUESTIONS IMMEDIATELY CALL:
CABO LUCERO FIRE DEPARTMENT DISPATCH FOR IMMEDIATE INFORMATION AT 505-425-7261


Possible Main Evacuation Destination:
Las Vegas, New Mexico
Possible Secondary Evacuation Destinations:
Romeroville (Gas Station);Sheridan (Fire Station); Tecolote (Fire Station); Mora; Wagon Mound; Santa Fe
Possible Main Evacuation Routes:
New Mexico Highway 283 East;
Possible Secondary Routes:
County Road A19A South (Gravel Road to Romeroville);
Possible Evacuation Routes:
West Las Vegas High School Gymnasium Will be used as a check In & Out Center. Also used to locate residents displaced by fire.
New Mexico Highlands University Michael Marr Gymnasium - Las Vegas, NM
Robertson High School Gymnasium, Las Vegas, NM
Possible Large Animal Shelter:
San Miguel County Fair Grounds, North of Las Vegas, NM on New Mexico Highway 65


Possible Main Communications System of Citizen Information:
Radio Stattion KFUN - Radio AM 1230
Radio Station KNMX- Radio AM 540
Tune for traffic direction, evacuation and shelter sites
Remember: Advanced Planning Saves Time and Lives!
Always know where children and other family members are

Collect important papers (birth certificate, insurance, photos, etc)

Collect your pets

Maintain ample amount of fuel in vehicle at all times

Close and lock your home
CABO LUCERO FIRE DEPARTMENT
FIRE WISE TIPS:
CABO LUCERO FIRE DEPARTMENT
PLANNING TO BURN GUIDELINES
FOR INFORMATION & NOTIFICATION CALL
CABO LUCERO FIRE DEPARTMENT DISPATCH AT 505-425-7261
Rules and Guidelines Below:
1. Immediately call Cabo Lucero Fire Department for information, guidelines, and provide all information location, fuel type, etc. at 505-425-7261
2. Call Las Vegas, NM State Forestry Office Dispatch at 505-454-0547
3.Call Las Vegas, NM State Police District 2 Office Dispatch at 505-425-6771
Burning of household trash or items that contain any chemicals is strictly prohibited.

Prior to burning / Campfires
a. Individual/s Must contact their local fire district for inspection of site and materials
to be burned
b. Identify a burn date after fire department approval
c. On the burn date individual/s must contact the dispatch facility their local fire
department and State forestry and notify them. The fire district and or forestry will
the identify if conditions warrant any concerns and either allow the burn or advise
to reschedule.
d. Burns must be conducted during the daylight hours all burns should be out before
3:00 pm. Longer burn periods must be approved by the State Forestry and the fire
district and guidelines will be given to the individual/s requesting the burn
extension.
e. Environmental requirements that must be adhered too at all times.
f. Violators will be subject to penalties or imprisonment.