CABO LUCERO FIRE DEPARTMENT HISTORY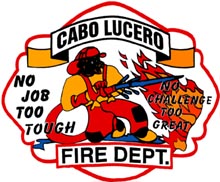 HISTORY:
The area currently known as the Cabo Lucero was originally part of a 3200 acre land development started in 1969 by C.B. (Brad) Watson and Robert Buhler. The land was roughly defined by the national forest boundary about halfway up the mountains to the west; to the south by Falls Creek; to the east by the Tecolote River and State Highway 283; and to the north by Camp Blue Haven, Beisman, and Trujillo properties.
As the population increased, there was a greater need for better roads and more responsive emergency services. As a result, in 1992 the property owners banded together to form the Cabo Lucero Landowners Association. This association became a registered non-profit organization with two primary goals. First, to find a way to provide fire protection and emergency services. Second, to speak in a unified voice to the county commission the concern about keeping adequate county roads in the subdivision. Both efforts bore fruit, mainly because of the work of the people involved.
In 1994, the State Fire Marshall granted the community a Class 10 rural volunteer fire department. The driving force to become a qualified volunteer fire department was provided by Fred Williams and Jim Nix.
In 1995, the fire department was upgraded to a Class 9.
In 1995-1999, Continous Operations and Fire Station Expansion to the Cabo Fire Station Bay.
In 2008, the fire department was upgraded to a Class 8.
In 2009, Transitioned to San Miguel County Fire Unified Response & Command
In 2010, Secured SCBA refilling Station in Cabo Lucero Fire Department and Multiple Grants.
In 2011, Got 2 New Class A Pumpers Engine 4 & Engine 5, original trucks retired.
In 2012, Cabo Lucero Fire Department was identified as San Miguel County Fire Station 3
In 2012, San Geronimo Sub-Station was identified as San Miguel County Fire Station 4
In 2013, Out Reach to Volunteers and Continued Training
Contact Information:
Telephone
505-425-7261
FAX
505-425-0060
Postal address
900 Ridgecrest Dr.
HC81, Box 3
Las Vegas, NM 87701
Electronic mail
General Information:
cabolucerovfd@gmail.com
Webmaster: estevanlaw@gmail.com